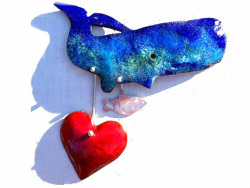 We caught up with Perth-based artist Gill Cordiner to discuss her delightful enamelled designs!

Your beautiful jewellery is so vibrant and colourful! How did you find your niche?
I think I found a niche because enamelling is not such a common medium and as I am a trained fine artist I have a different perspective than most jewellers. My use of whimsical shapes and strong colour used in a contemporary way makes my work unique.